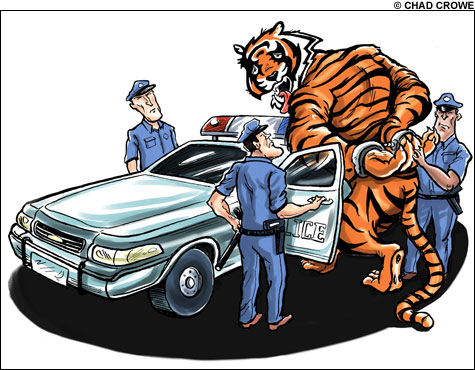 2001
Cincinnati Bengals
NFL Draft
Rudi Johnson
Chad Johnson
T.J Houshmanzadeh
Justin Smith
Gotta be the franchise's greatest draft ever. Damn shame that one, if not two of them won't be on the field for them next year.
Oh Well.
This year they drafted:
1
9(9)
Keith Rivers
OLB
USC


Rivers doesn't have as much potential as some of the other linebackers in this class, but he's clearly the most complete player in this year's outside linebacker class. Also, he is the kind of player a team wants in its locker room representing the organization. He doesn't have elite top-end speed and he isn't much of a playmaker, but Rivers reads his keys quickly, gets to the ball and doesn't miss open-field tackles. He's going to be better in zone coverage than in man coverage, but he isn't going to get caught out of position very often.
2
15(46)
Jerome Simpson
WR
COAST CAROLINA


We are surprised that Simpson came off the board earlier than Limas Sweed, DeSean Jackson and Malcolm Kelly. Simpson isn't a great route runner and he played at a small school, so he faces a steeper learning curve. On the plus side, he has adequate size and the frame to get even bigger. He also has good speed, tracks the ball well and can make a spectacular catch.


3
14(77)
Pat Sims
DT
AUBURN


The biggest knock on Sims is he tends to wear down too quickly. He has tendency to come out of his stance too high when he gets tired. He also has some problems locating the ball. However, he's quick for his size when he's fresh and he flashes the ability to shed blocks quickly.


3
34(97)
Andre Caldwell
WR
FLORIDA


Caldwell had problems staying healthy and you would've liked to see him make more plays downfield considering his excellent speed. However, he's quick enough to get open underneath and catches the ball fairly well. He also runs hard after the catch.


4
13(112)
Anthony Collins
OT
KANSAS


Collins has good size with the frame to get bigger. He is a developmental prospect who will have to learn to play on the right side. The Bengals add depth to the offensive line with this pick, as there are concerns about Willie Andrews and Levi Brown, who didn't play up to speed last year
5
10(145)
Jason Shirley
DT
FRESNO STATE


This is a surprising pick because Shirley comes with serious character issues. In addition, he is raw and tends to ware down quickly. Although we see this as a reach, he does possess good size and is very quick when fresh.
6
11(177)
Corey Lynch
S
APPALACHIAN ST


He isn't big enough to line up in the box and he doesn't have great man-to-man coverage skills. However, he is a sound tackler who fills hard in run support, makes the occasional big play on defense and will contribute on special teams.
6
41(207)
Matt Sherry
TE
VILLANOVA


His size causes matchup problems for safeties. He can make plays downfield and has good hands, but he offers little as a blocker at this point.
7
37(244)
Angelo Craig
OLB
CINCINNATI


He shows adequate upper-body strength, times snaps extremely well and gets a quick jump off the edge. He moves well laterally and takes sound pursuit angles to the ball. He plays with a mean streak and competes from snap to whistle. He is primarily used as a pass rusher and is going to struggle initially adjusting to the speed of the NFL level.
7
39(246)
Mario Urrutia
WR
LOUISVILLE


He was injured as junior but still elected to come out early. He catches the ball very well and is a red zone threat. He has strong hands and surprisingly good feet for a big wideout. He has marginal top-end speed, though, and like most big receivers he struggles to separate from coverage.


I actually like the people we got. Especially the WR's and the LB. It's silly to grade anyone until you see them in an actual NFL jersey so I won't make any grades overall or anything. But watch out for them next year is all. Still haven't completely solidified that porous D but this is a start. Great weekend for my city.
Anyway,
Soulful Sunday
has arrived with me away from my desktop. No desktop = no music.
Check back later this week for what I owe you today.